Recipes easy to make Banana Split Supreme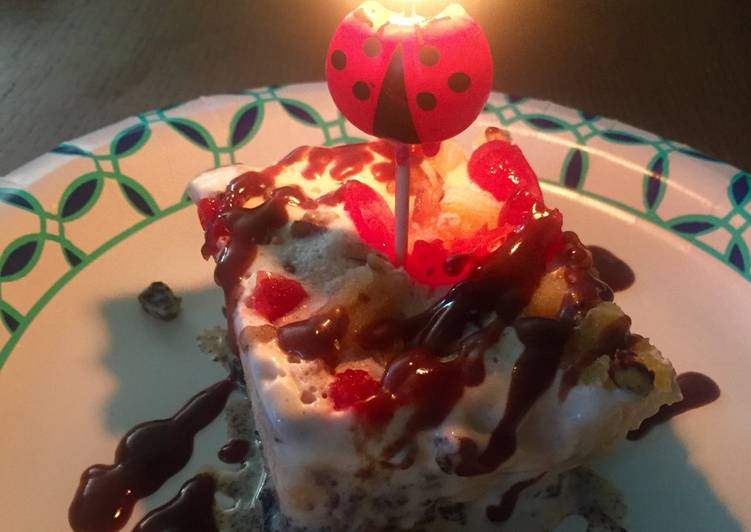 The ingredients for making Recipes easy to make Banana Split Supreme
3/4 cup butter, divided

2 cups confectioners' sugar

1 cup evaporated milk

3/4 cup semisweet chocolate chips

24 cream-filled chocolate sandwich cookies, crushed

3-4 medium firm bananas, cut into 1/2 inch slices

2 quarts vanilla ice cream, softened, divided

1 can (20 ounces) crushed pineapple, drained

1 jar (10 ounces) maraschino cherries, drained

3/4 cup chopped pecans

whipped topping, optional
Step-step makingBanana Split Supreme
In a saucepan, combine 1/2 cup butter, sugar, milk, and chocolate chips. Bring to a boil over medium heat; boil and stir for 8 minutes. Remove from the heat and cool completely.

Meanwhile, melt the remaining butter; toss with cookie crumbs. Press into a greased 13in x 9in x 2in pan. Freeze for 15 minutes.

Arrange banana slices over crust; spread with 1 quart ice cream. Top with 1 cup chocolate sauce. Freeze 1 hour. Refrigerate remaining chocolate sauce.

Spread the remaining ice cream over dessert; top with pineapple, cherries and pecans. Cover and freeze several hours or overnight.

Remove from the freezer 10 minutes before serving. Reheat the chocolate sauce. Cut dessert into squares; serve with chocolate sauce and whipped tossing if desired.