Recipes easy to make Sweet Potato Masala Fry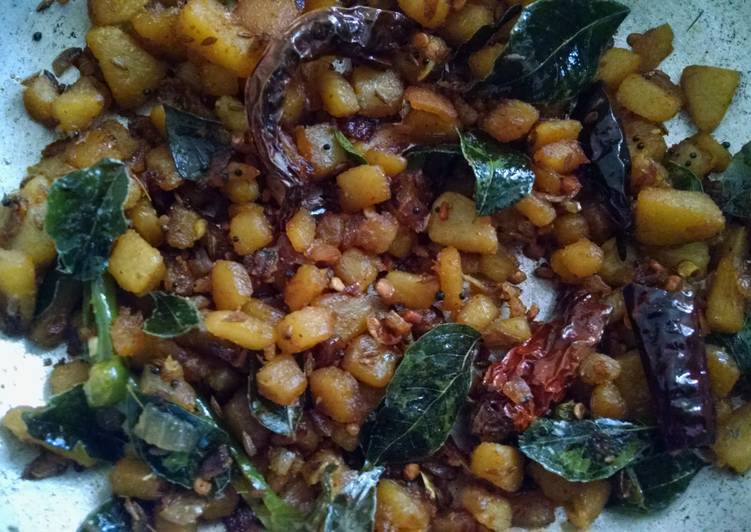 The ingredients for making Recipes easy to make Sweet Potato Masala Fry
200 gms Sweet potato

3 pods Garlic

1/2 teaspoon Cumin seed

2 numbers red chili Dried

2 sprigs Curry Leaf

1/4 teaspoon Mustard seed –

to taste Salt

1/4 teaspoon Chili powder

1/8 teaspoon Turmeric powder

1 number Green chili

1 teaspoon Urad dal

1.5 cups Water

1.5 tablespoons Oil

1 Onion small
Step-step makingSweet Potato Masala Fry
Wash and peel the sweet potato. Cut into small cubes.

Boil the sweet potato with a couple of pinches of salt until cooked through.

Chop onion (need not be finely diced). Cut the green chilli into 2 and then slit each half.

Using a mortar and pestle to crush cumin seeds. Add the peeled garlic pods and crush along with the cumin seeds and keep aside.

In a heated fry pan, pour oil and add in the mustard seeds.

Once the mustard seeds splutter, add dried red chilli and sauté for 5 seconds.

Add urad dal and fry until they turn light brown. Add in the green chilli and curry leaves and fry for a minute.

Add chopped onion. Sauté for a minute and add the crushed cumin and garlic and cook for another 3 minutes.

Add chilli powder and turmeric powder and sauté for a minute.

Add the cooked(boiled) sweet potato. Sprinkle salt as per your taste.

Fry until the sweet potato turns light brown on the sides.