Recipes easy to make Brads Chicken cutlets & gnocchi w/ mushroom tarragon cream sauce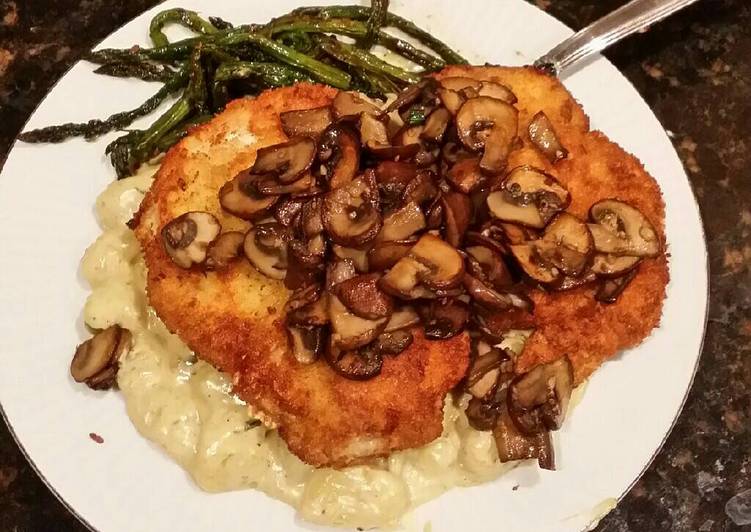 The ingredients for making Recipes easy to make Brads Chicken cutlets & gnocchi w/ mushroom tarragon cream sauce
for the chicken

3 large chicken breasts, fillet in half and pound flat

flour for dredging

1 tsp each lemon pepper, garlic powder, wht pepper, grnd mustard

2 eggs, beaten

panko crumbs

for the sauce

1 lg shallot, fine chopped

8 lg crimini mushrooms, sliced thin

2 tbs butter

1 tbs minced garlic

6 sprigs fresh tarragon, minced

1 qt whipping cream

2 tbs granulated chicken bouillon

1 tsp white pepper

2 tbs prepared mustard

1 cup shredded parmesan Romano blend

1/8 cup corn starch mixed with cold water for thickening

gnocchi, either home made or prepared
Step-step makingBrads Chicken cutlets & gnocchi w/ mushroom tarragon cream sauce
Prepare the chicken. Set up the breading station. Mix flour and seasonings. Beat eggs. Put panko in a bowl.

Boil a LG pot of heavily salted water. Drop in gnocchi, boil 2 minutes until they float to the top. Strain, rinse, and set aside.

For the sauce, melt butter in a wok or dutch oven. Add shallots and mushrooms. Saut until they start to carmelize. Add garlic and tarragon. Saut 2 more minutes.

Add rest of sauce ingredients except starch and cheese. Bring to a simmer.

At the same time, heat oil in a pan to fry the chicken.

First Dredge in seasoned flour. Then in egg, then in panko. Fry in pan until golden brown. Drain on paper towels.

When sauce simmers for a few minutes, add gnocchi and cheese. Return to a simmer. Sauce will thicken a bit. Use starch to bring to desired consistency.

Plate gnocchi. Serve chicken on top. If desired, garnish with more cheese and a small sprig of tarragon.