Recipes easy to make Chipotle, Coffee Beef Fillet with a Chilli Chocolate Sauce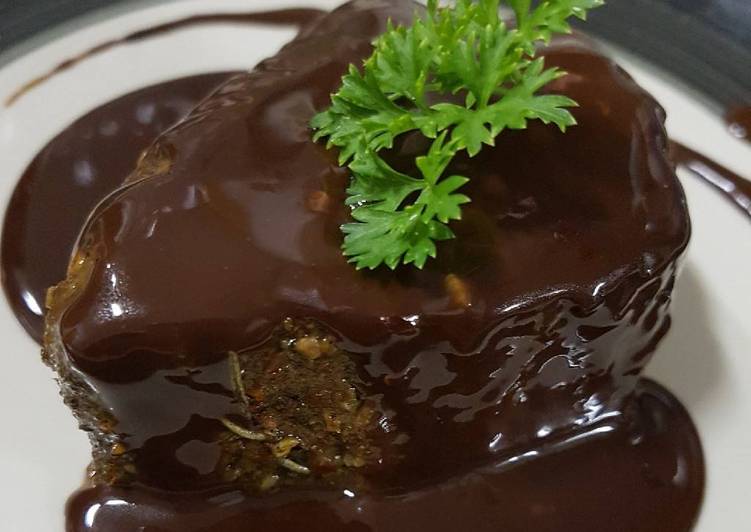 The ingredients for making Recipes easy to make Chipotle, Coffee Beef Fillet with a Chilli Chocolate Sauce
800 g Beef Fillet

1 Tbsp Chipotle Chilli

1 Tbsp Coffee

1 Tbsp Brown Sugar

1 tsp dried rosemary lightly crushed

1 tsp Mustard Powder

1 1/2 tsp Extra Virgin Olive Oil

to taste salt and pepper

2-3 Tblsp of Garlic Butter

2 sprigs fresh Rosemary

Chilli Chocolate Sauce

125 ml red wine

1 bayleaf

2 large cloves of garlic whole just cracked/slightly flattened

1 sprig thyme

1 sprig rosemary

65 ml stock (chicken but u can use beef)

25 g butter

60 ml (1/4 cup) fresh cream

50 g dark Lindt chocolate (70%)

2 tsp red chilli flakes

to taste Salt & pepper (about a pinch each)
Step-step makingChipotle, Coffee Beef Fillet with a Chilli Chocolate Sauce
Combine all the ingredients except the garlic butter and fresh rosemary to create a rub.

Season fillet well with rub and let sit for at least 15 minutes.

You could use one of two cooking methods… The one; a firm favourite of my fellow South Africans is to braai (or barbeque). For this method I suggest searing the meat on a high flame to seal it then allow to cook on a moderate fire until done to your preference.

Note to Baste the fillet during cooking with garlic and herb butter using the rosemary as a 'brush'. (Melt butter)

The Second Method uses a combination of stove top and oven cooking as follows…

Grease an oven proof dish with a drizzle of olive oil and heat through.

Sear meat to seal. Remember to seal all sides.

Place 2 to 3 Tblsp of garlic butter and two sprigs of fresh rosemary over meat.

Cover with foil and place in oven at 140C for about 20 to 25 minutes (depending on how well done you like your steak – you may need to cook for longer for well done)

Method for the Chilli Chocolate Sauce:

Combine bayleaf, garlic, thyme, rosemary and red wine to a saucepan and simmer on medium heat until reduced to half.

Once reduced, add stock to wine and continue to simmer until reduced to half.

Stir in butter and then remove Bayleaf, garlic and thyme. Remove from heat and cool slightly (for about 7 – 10 minutes). The butter gives your sauce a beautiful silky gloss a and adds to the decadence so I suggest not substituting with margarine.

NB. I found that reduction and cooling prevents the cream from curdling in the next step.

Whisk in the cream. Return to stove on a low heat just to warm through. You want it just warm enough to melt the chocolate in the next step.

Turn off heat then add in chocolate. Whisk until melted and smooth. NB. A darker chocolate will result in a more bitter sauce. I find 70% to be just perfect.

Add in red chilli flakes. Salt and pepper to taste. Combine well.