Recipes easy to make Galaktoboureko by Georgia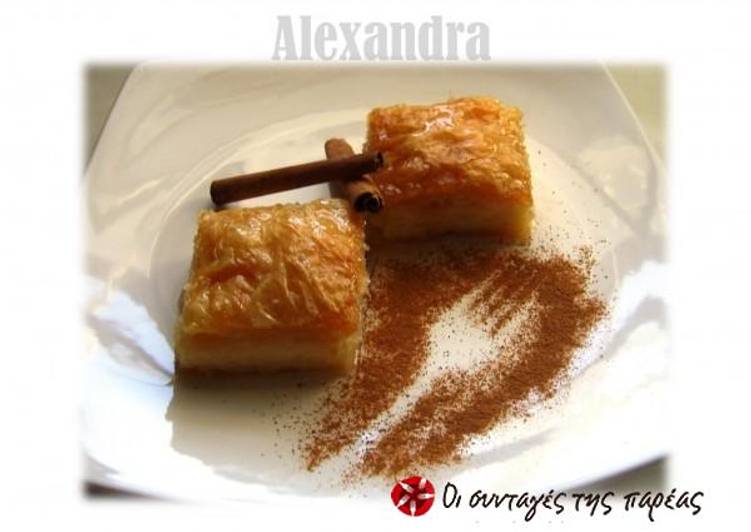 The ingredients for making Recipes easy to make Galaktoboureko by Georgia
For the custard

1 1/2 l fresh milk

150 g fine semolina

3 eggs

1 tsp vanilla

350 g sugar

For the syrupι

1/2 kg sugar

3/4 cups water

1 tbsp glucose syrup

1/4 of one whole lemon

1/2 tsp vanilla

1 packet filo pastry

150 g clarified butter
Step-step makingGalaktoboureko by Georgia
Place all the ingredients for the custard (except the vanilla) in a pot, over strong heat and stir with a whisk until the custard thickens. Remove from heat and add the vanilla.

Melt the butter and brush a small baking tray of about 40 cm diameter.

Line it with half the filo sheets brushing each one with butter and allowing the excess filo to hang over the sides of the baking tray.

Pour the custard, fold in the excess filo sheets over it and spread the remaining filo sheets on top.

If you still have some butter that you haven't used, pour it on top. 

Score the filo sheets making sure you don't go all the way to the custard and sprinkle with a little water.

Place the baking tray in the oven, turn down the heat to 150°C and bake for about 1 1/2 hour.

Prepare the syrup towards the end of baking.

Place all the ingredients for the syrup (except the vanilla) in a pot over strong heat. As soon as the syrup starts to boil and bubble, count 4 minutes and then remove from eat right away.

As soon as the galaktoboureko is out of the oven, pour the piping hot syrup over it.