Recipes easy to make Vegetarian nachos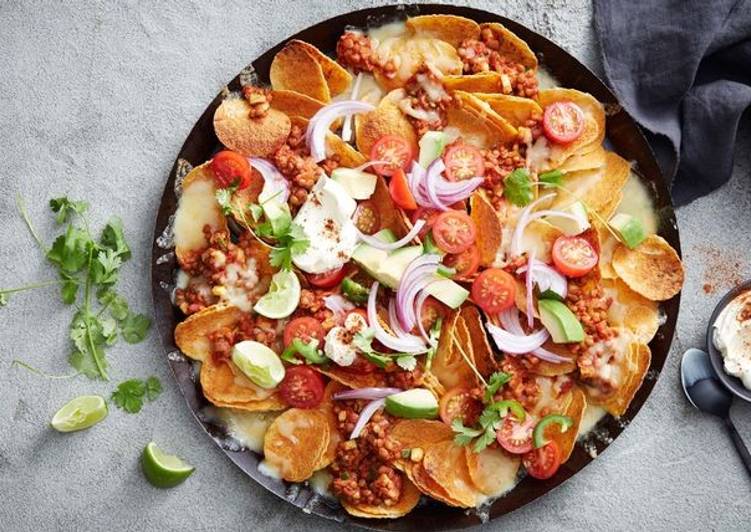 The ingredients for making Recipes easy to make Vegetarian nachos
1 tablespoon extra virgin olive oil

1 brown onion, thinly sliced

2 garlic cloves, crushed

2 teaspoons ground coriander

1 teaspoon ground cumin

1 zucchini, finely chopped

400 g can finely chopped tomatoes

2 tablespoons tomato paste

2 x 400g cans brown lentils, drained, rinsed

2 x 130g packets nacho cheese tortilla corn chips

1 cup pizza cheese

1 avocado, sliced

250 g cherry tomatoes, halved

1 small red onion, halved, thinly sliced

1 fresh jalapeno chilli, halved, sliced

Sour cream, serve

Fresh coriander leaves, to serve

Lime wedges, to serve

Mild paprika, to serve
Step-step makingVegetarian nachos
Heat oil in a large frying pan over medium-high heat. Add onion. Cook, stirring for 4 minutes or until just softened. Add garlic, ground coriander and cumin. Cook, stirring, for 30 seconds or until fragrant. Add zucchini. Cook for 1 minute. Add chopped tomatoes and tomato paste. Bring to a simmer. Reduce heat to medium-low. Add lentils. Cook, stirring occasionally, for 8 to 10 minutes or until mixture thickens.

Meanwhile, place chips on large baking tray. Top with cheese. Bake for 2 minutes or until golden.

Top cheese with lentil mixture, avocado, cherry tomato, red onion, chilli and avocado. Sprinkle with fresh coriander. Sprinkle with paprika. Serve with sour cream and lime.