Recipes easy to make Aloo Ki Kachori (Kachori With Potato Stuffing)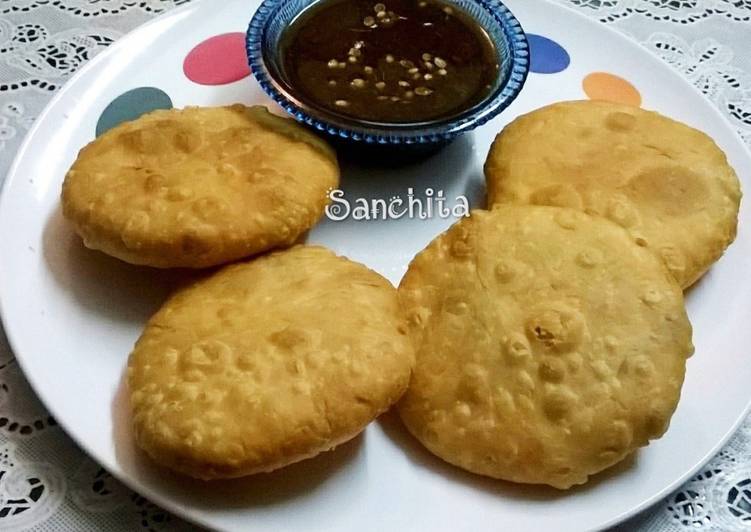 The ingredients for making Recipes easy to make Aloo Ki Kachori (Kachori With Potato Stuffing)
For Dough 1 cup all purpose flour (maida, plain flour)

2 Tablespoons oil (vegetable)

2 drops lemon juice

1/3 cup water

For Filling

1 cup boiled and peeled potatoes(roughly mashed)

2 pinch asafoetida /hing

1/2 teaspoon cumin seeds

1/2 teaspoon red chilli powder

1 teaspoon coriander powder

1/2 teaspoon dry mango powder

1/2 teaspoon salt

1 Tablespoon green chilli finely chopped

2 Tablespoon coriander leaves chopped

1 Teaspoon vegetable oil

2 cups Oil for frying
Step-step making Recipes easy to make Aloo Ki Kachori (Kachori With Potato Stuffing)
To Make Dough
Mix the all purpose flour, semolina, salt, lemon drops and oil.

Add the chilled water slowly, mixing with your fingers as you pour and make a soft and pliable dough.

Cover the dough with a samp muslin cloth and let it sit for at least fifteen minutes.

For the Filling- Heat the oil in a frying pan on medium flame.
Test the heat by adding one cumin seed to the oil; if it cracks right away oil is ready.

Add cumin seeds and asafoetida, as cumin seeds crack, add all the ingredients, potatoes, red pepper, green chilies, coriander leaves, salt and coriander powder, mix it well and keep pressing with the help of the back of the ladle.

Filling should be not very dry, this should take about 5 minutes.

Sprinkle the garam masala and dry mango powder and mix well.
Switch off the flame.

Let the filling cool down to room temperature, mix it well this should have texture of firm dough.

To make Kachoris take the dough and knead it for a minute. Divide the dough in twelve equal parts.

Mash the potato mixture lightly and divide in 12 parts filling should be about same size as dough.

Take one part of the dough and flatten the edges with your fingers and make a 3-inch round circle, Leaving the center little thicker than the edges.

Mould the dough into a cup and place potato filling in the center.
Pull the edges of the dough to wrap the filling and seal the edges properly.
Make all the Kachoris likewise.

Let the filled ball sit for three to four minutes before rolling. It helps spreading the filling evenly.
Set the kachoris on a surface with the seams facing up.

Using the base of your palm, slowly flatten them into about three inches in diameter, or use the rolling pin roll the kachori with light pressure.

Heat the oil in frying pan over medium heat
and fry them on medium-low heat.
After they start to puff, slowly turn them over. Fry until golden brown on both sides.

Take them out on an absorbent paper and serve with chutneys and tea.