Recipes easy to make Fish in Banana leaves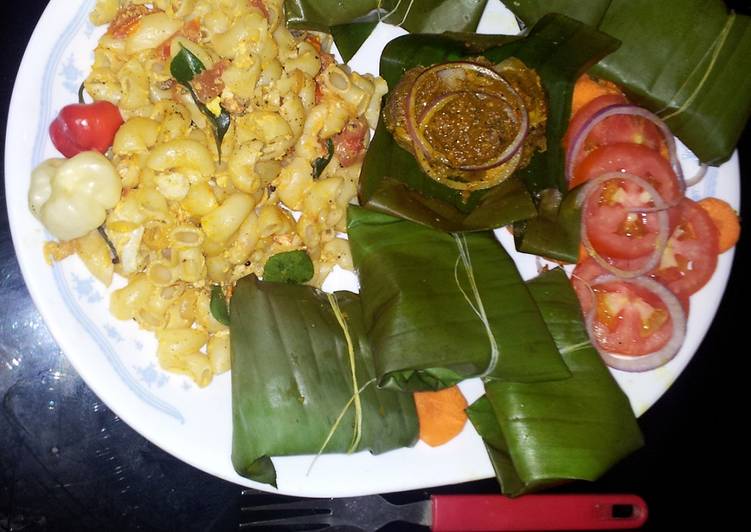 The ingredients for making Recipes easy to make Fish in Banana leaves
big- 1 Savala chopped to small thin pieces(small onions)

1 tbsp ginger garlic – grated(paste)- each

3/4 tbsp pepper powder

1 tsp turmeric

2 nos Tomato peeled

3 sprigs curry leaves

1 tbsp oil

1 tbsp Butter

1 tsp salt – (to taste)
Step-step makingFish in Banana leaves
Fish pieces are cleaned with salt and vinegar and marinated for minimum 30 minutes Marination masala is prepared as follows.In a pan, saute the savala, ginger,garlic,curry leaves,tomatos with little oil,till the raw smell of savala disappears. Take out from fire and add turmeric powder, chilli powder,pepper powder and salt.Blend everything smooth in a mixie. Marinate the fish and keep aside.

Cut Banana leaves in rectangular shapes and show them over light flame or put them over a hot thava so that the leaves will become soft and pliable. clean the leaves, wipe them and grease each leaf with little butter or oil. Fold the marinated fish pieces inside each leaf, tie them with a thread taking care to see that water does not get inside the masala. Arrange them one by one in a idly cooker and cook them over steam for about 20 -25 minutes.Take out the cooking pan from the stove. The…

Alternatively you can put the fish pieces covered in banana leaf in a hot thava with little oil sprinkled in the pan and cook in low fire closed, sprinking water over it occasionally and turning both sides This is also tasty but more care has to be applied as the fish has to be cooked enough without getting burnt.