Recipes easy to make Pumpkin Brownies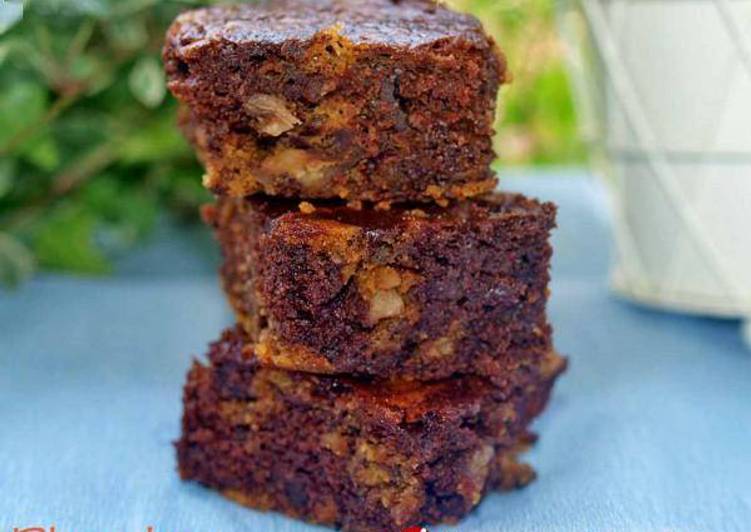 The ingredients for making Recipes easy to make Pumpkin Brownies
100 gr self raising flour

5 gr baking powde

2 pinches salt

100 ml olive oil

70 gr yogurt (made by ship's milk, not strained yogurt)

200 gr sugar

3 small eggs

30 gr cocoa powder

200 gr pumpkin mush

80 gr dark chocolate chips

100 gr walnuts

5 gr cinnamon

5 gr mixed spices (a little bit of clove powder, a little bit of nutmeg powder and a little bit of ginger)
Step-step makingPumpkin Brownies
Sift the flour and the baking powder into a bowl.

Add the salt and spices and give it a stir.

Whisk the oil, sugar and yogurt for a couple of minutes.

Add the eggs, one at a time and continue whisking for 2-3 minutes.

Add the flour mix and and continue to mix with a spatula.

Separate the batter into two different bowls.

In the one bowl sift in the cocoa powder, and add the chocolate chips.

In the other add the walnuts and the pumpkin mush.

In a baking tray 20x20cm place at the bottom a piece of baking paper, and brush with butter (and the sides of the baking tray).

Take spoonfuls of each mixture (using a different spoon for every batter), and place them in the baking tray.

With a knife stir the mixture in every direction to create a marble effect.

Bake in a preheated oven in 180oC for 50 to 60 minutes.

Let it cool and cut into pieces.