Recipes easy to make Braised Chicken w/ Peppers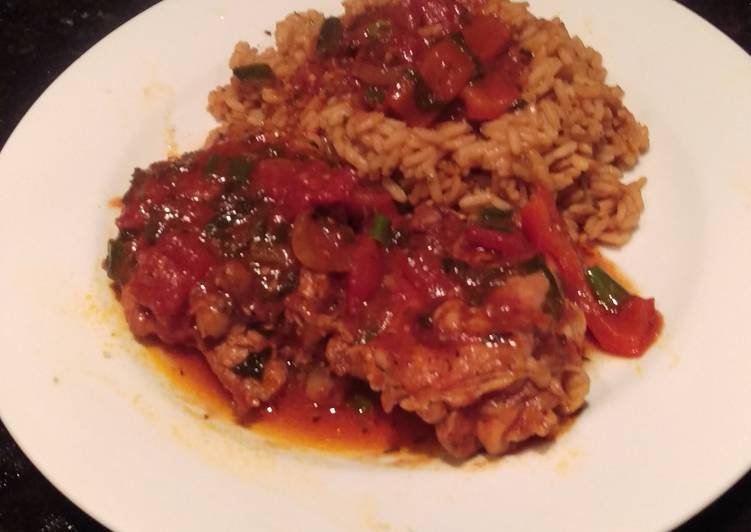 The ingredients for making Recipes easy to make Braised Chicken w/ Peppers
8 chicken thighs

Dash salt, pepper, paprika, and dried thyme

3 tbs. olive oil

2 red bell peppers, cored, seeded & sliced

1 yellow onion (medium), peeled & chopped

2 cloves garlic, peeled & sliced

2 tbs. tomato paste

1 cup dry white wine

1 can (14.5 oz.) chopped tomatoes

1 can (14 oz.) can low-salt chicken broth

1/2 cup fresh basil leaves, snipped into pieces

1/2 tsp. dried thyme leaves

1/2 tsp. red hot chili flakes

1 bay leaf

1/4 cup fresh Italian parsley, chopped

1 scallion (green onion), sliced
Step-step makingBraised Chicken w/ Peppers
Preheat oven to 350 degrees F.

Rinse chicken thighs and pat dry. Season the chicken with salt, pepper, paprika, and thyme.

Heat for 1 minute and then add the wine. Increase the heat slightly and cook until the wine has been reduced a bit. Stir occasionally.

Place the pan into the heated oven and bake for 40minutes. Remove the lid, add the parsley, and bake for an additional 20 minutes at 300 uncovered to thicken the sauce.

Serve with an Italian side-dish of risotto, or plate with rice or mashed potatoes and vegetables. Add a dash of green onions to the top.