Recipes easy to make TONJIRU (Pork Miso Soup)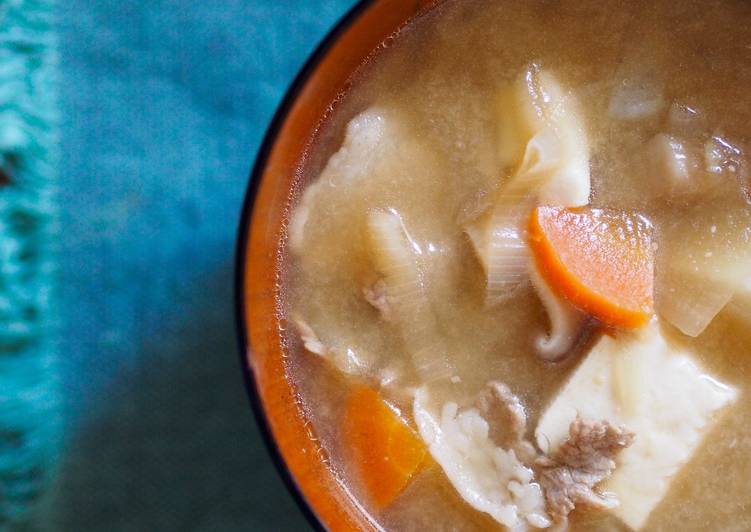 The ingredients for making Recipes easy to make TONJIRU (Pork Miso Soup)
1000 ml (about 4 U.S. cup) water

150 g (1/3 lb) sliced pork belly

1/2 gobo (burdock root)

1/2 carrot

2 inch daikon

2 satoimo (baby taro)

1 small sweet potato

1/2 leak

2 Shitake

1/3 block konnyaku (konjac)

1/2 block tofu

1 tsp grated ginger

2 tsp soy sauce

2 tsp MIRIN

4 and 1/2 tbsp MISO

2 tsp sesame oil
Step-step makingTONJIRU (Pork Miso Soup)
Cut pork into bite-sized pieces.

Peel the Daikon and Carrot. Cut into quarter rounds.

Tear the block of konnyaku with your hands.

Peel Satoimo and sweet potato. Cut into bite-size.

Heat the salad oil in a large pot, and fry the pork.

Pour water into a large pot.

Tear the block of tofu with your hands, And add them.

Simmer until the vegetables are tender.

Dissolve the miso into the stock. And, Add soy sauce, MIRIN, sesame oil and grated ginger.