Recipes easy to make Qatayef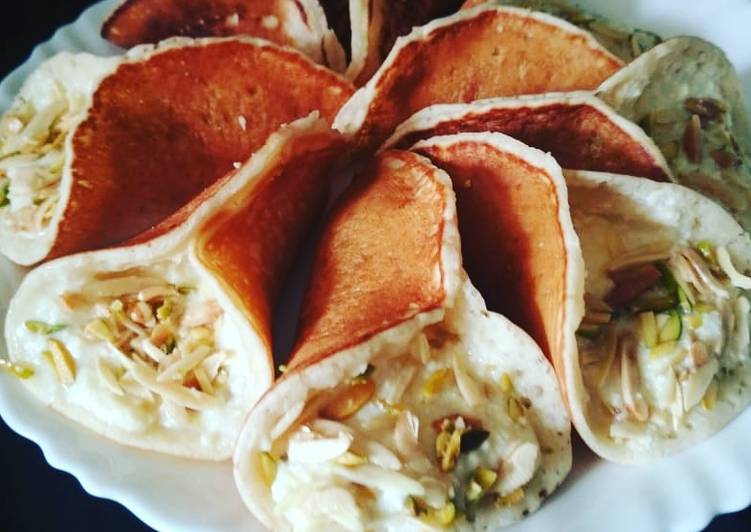 The ingredients for making Recipes easy to make Qatayef
For For batter :

1 cup Plain flour (maida)

3 tbsp Semolina

4 tbsp Sugar

3 tbsp Milk powder

1/2 tsp Salt

1/2 tbsp Yeast

as required Lukewarm Water

For stuffed cream:

1/2 cup Fresh paneer

500 ml Milk

1 tsp Rose essence

1/4 cup Sugar

2 tbsp Corn flour mixture

as required Water

3 tbsp Ghee for greasing

3 tbsp Dry fruits for garnishing
Step-step making Recipes easy to make Qatayef
In bowl mix all batter ingredients mix well make batter like pouring consistency.
Close lid keep on warm place for 1 hour.

Now make the stuffed cream.
 Boil the milk in pan add sugar, crumble paneer and add, rose essence mix well. Add corn flour celery (mix cornflour powder with some water mix well till no lumps remain) add mixture in pan, cook for 2 mins on low to medium.

After 1 hour fluffy batter is ready whisk well. Grease the tawa with ghee pour the 1 big spoon batter on it first 30 sec cook on high flame then cook on low to medium flame for 5 mins or well cooked,  cook only with one side, take out on cloth cover it with cloth make all with same method. I made 8 Qatayef pancake with this batter.

Fold the pancake press tightly and pack it filled the cream and garnish with dry fruits.
       Yummy Qatayef is ready to eat.