Recipes easy to make Ribbon Pasta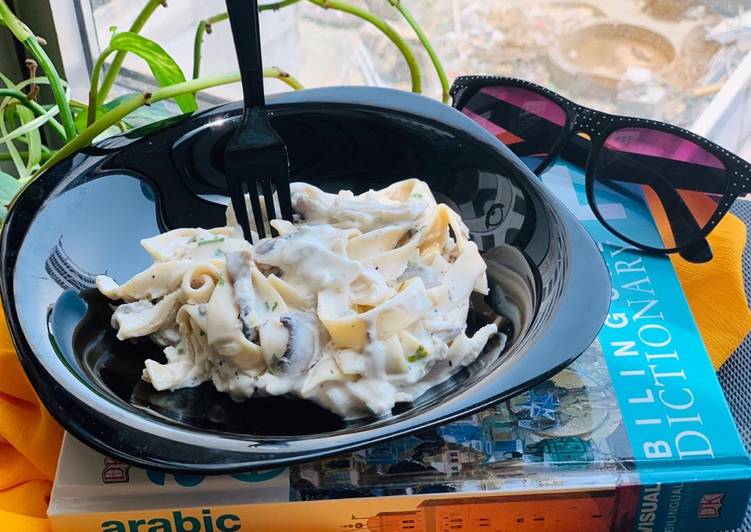 The ingredients for making Recipes easy to make Ribbon Pasta
1 cup ribbon pasta

1 tablespoon butter

1 small red onion, diced

1 small green pepper, sliced

3/4 cup mushrooms

1 tablespoons oil

4-5 large garlic cloves, finely chopped

1.5 tablespoon all purpose flour

1.5 cups milk, warm

1/2 cup heavy cream or milk

1 teaspoon dried oregano

1 teaspoon Italian seasoning

1/2 teaspoon red chilli flakes, optional

to taste salt

to taste black pepper

1/2 cup grated processed cheese
Step-step making Recipes easy to make Ribbon Pasta
Boil the pasta according to instructions on the package and drain.

Melt 1 tablespoon of butter in a pan on medium heat. Add all the veggies – onion, peppers and mushrooms and cook for 2 minutes.

To the same pan, now add olive oil Add the chopped garlic and cook for 2 minutes until fragrant.

Then add in the flour. Whisk the flour continuously, using a wire whisk for around 1 minute but dont brown the flour.

Then add the in the milk and the cream.

Whisk to combine. Let the sauce simmer for 2 minutes.
The sauce will thicken and coat the back of the spoon.

Add oregano, Italian seasoning, red chilli flakes and mix. Also add salt and black pepper to the sauce.

Let the sauce simmer on medium heat another minute or so and then add the cheese and mix until it melts. Now turn the heat to the lowest.

Stir in the boiled pasta and the sauteed veggies. Toss until the pasta and veggies are coated with the sauce.

Taste and adjust the seasonings at this point.
Serve white sauce pasta immediately out of the pan with parmesan cheese if needed.