Recipes easy to make Roasted Baby Potatoes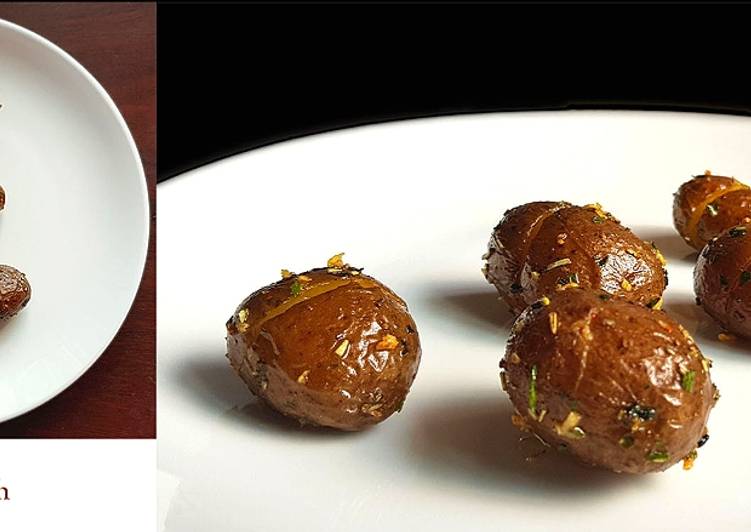 The ingredients for making Recipes easy to make Roasted Baby Potatoes
500 g Baby Potatoes,

Sea Salt, 1 TBSP + More For Seasoning

Pinch Baking Soda,

1/4 Cup Canola / Peanut / Grapeseed Oil,

2 Cloves Garlic Grated,

Pinch Fresh Rosemary Finely Chopped,

Pinch Shichimi Togarashi,

Pinch Dried Mushroom Powder,

Pinch Black Pepper,

Pinch Nori Flakes,
Step-step making Recipes easy to make Roasted Baby Potatoes
Preheat oven to 200 degrees celsius or 400 fahrenheit.

Wash the potatoes thoroughly.

*I prefer mine with skins on. You can peel the skins off if desired.*

In a sauce pot over medium-high heat, bring 500ml of water to a rolling boil.

Once the water starts to boil, add in salt and baking soda.

Stir to combine well.

Add in the potatoes.

Boil until the potatoes are fork tender.

While waiting for the potatoes to be par-cooked, in a skillet over medium-low heat, add oil, garlic, rosemary, togarashi, and mushroom powder.

Stir until well combined.

Bring it up to a sizzle.

Once the garlic starts to crisp-brown, remove from heat.

Pass the mixture thru' a strainer over a large bowl.

*Do no discard the residue.*

Once the potatoes are cooked to fork tender, drain and transfer onto a working surface.

Using a sharp knife, slice the potatoes in half, but not all the way thru'.

*Careful as the potatoes are still piping hot. Wear a heat proof glove.*

Transfer the potatoes into the bowl of the oil.

Toss to coat the potatoes well.

Transfer everything, including any leftover oil, onto a baking tray.

Season generously with salt and pepper.