Recipes easy to make Gnocchi With Sausagemeat & Spinach In A Garlic Butter Sauce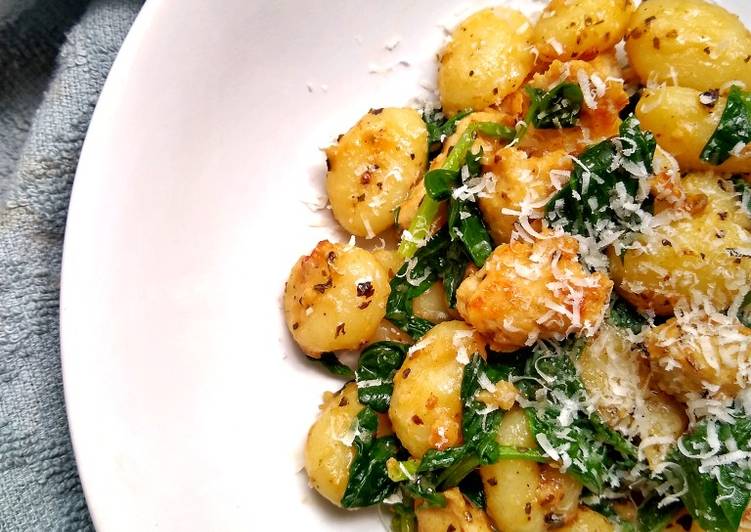 The ingredients for making Recipes easy to make Gnocchi With Sausagemeat & Spinach In A Garlic Butter Sauce
500 g gnocchi,

8 chicken chipolatas, outer casings removed,

2 large handfuls baby leaf spinach,

2 crushed garlic cloves,

1 knob butter, (I used light to reduce calories),

1 tsp dried oregano,

1 tsp dried basil,

Salt and pepper to season,

Salt for cooking water,

Parmasan cheese or hard Italian cheese equivalent for grating,

Spray oil or 1/2 tbsp vegetable oil for frying
Step-step making Recipes easy to make Gnocchi With Sausagemeat & Spinach In A Garlic Butter Sauce
Heat up a frying pan over a medium heat. Add in the cooking oil and once hot add the chicken sausagemeat by breaking pieces off into around 1 inch chunks. Begin to gently fry and brown off on all sides. Season with salt and pepper.

When the chicken sausagemeat has almost completely cooked through, add in a little more oil then the crushed garlic plus the dried herbs. Move around the pan and fry for a couple more minutes then remove from the heat. Set aside.

Bring a saucepan of salted water to the boil and add in the gnocchi. Boil until cooked (they will float to the water's surface), then drain off.

Return the now drained off gnocchi to the heat and add in the sausagemeat and garlic mixture. Toss everything together. Remove from the heat and add in the spinach and the knob of butter. Gently stir through until the spinach wilts and the butter melts down and coats the gnocchi.