Recipes easy to make Lab – e – Shireen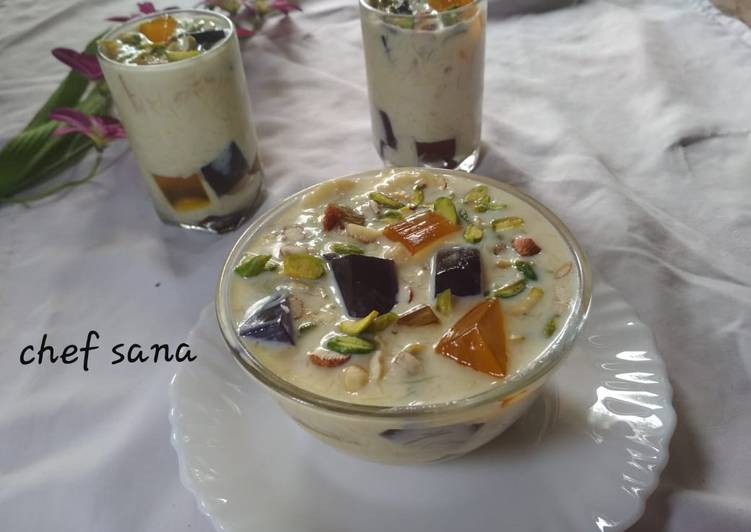 The ingredients for making Recipes easy to make Lab – e – Shireen
1 ltr Milk

3 tbsp Condensed milk

2 tbsp Vermicelli

1/2 cup + 2 tbsp Sugar

1 tsp Cardamom powder

as required Dry fruits – Almonds, pistachio, cashew chopped and raisins

as required Fruits – mango, banana, apple chopped

as required Jelly crystals – mango Flavour and black current flavour

700 ml Water – for jellies setting

2 tbsp Custard powder
Step-step making Recipes easy to make Lab – e – Shireen
In a pan add water 350ml boil it. When it's start boiling, add mango jelly crystal mix till no lumps remain. Pour in plate keep plate in the fridge for 1 hour or till set perfectly. Make blackcurrant jelly with the same method with remaining 350ml water.

In a pan boil it the milk. When it's start boiling add sugar mix well add cardamom powder and Vermicelli mix well add dry fruits mix well, add some milk in Custard powder mix till no lumps remain to pour the Custard mixture in milk  Cook for 10 mins on low to medium heat.
           

In a bowl mix, all fruits, add condensed milk mix well. Switch off the gas flame of milk mixture let it cool down.

Mix the condensed milk mixture in milk mixture mix well let it chilled in the fridge before serving. Cut the jellies into cubes.

In serving bowl and servings glass, add jellies, pour lab -e-Shireen mixture add jellies on top also spread dry fruits on top. Lab -e-Shireen is ready to eat.