Recipes easy to make Sweet 'n' Sour Chicken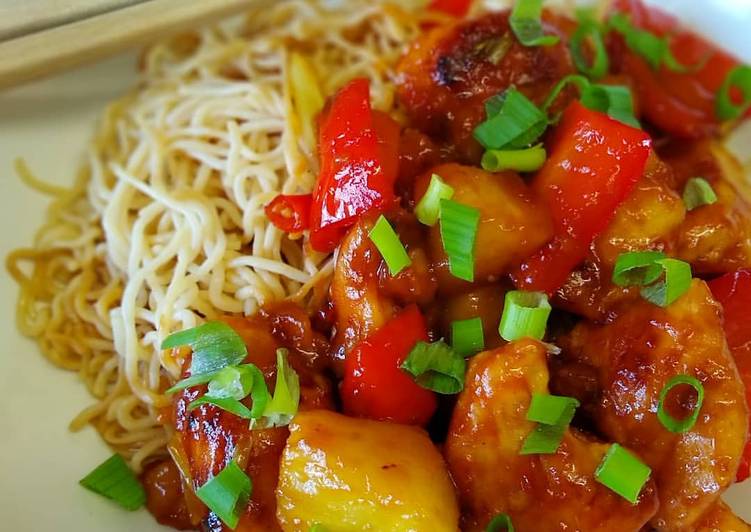 The ingredients for making Recipes easy to make Sweet 'n' Sour Chicken
220 g chicken breast, cut into chunks,

1 large green or red bell pepper, cut into chunks,

1 onion, cut into chunks,

100 g frozen or fresh pineapple chunks,

1 spring onion, sliced thinly

Vegetable or sunflower oil for frying,

For the chicken coating:

3 tbsp Cornflour,

1/2 tsp white pepper,

1/4 tsp salt,

1 tbsp Dark soy sauce,

1 beaten egg,

For the sweet and sour sauce:

3 tbsp sugar free ketchup,

1 and 1/2 tbsp organic runny honey,

1 and 1/2 tbsp white wine vinegar,

1/2 tbsp premium oyster sauce,

1 tbsp light soy sauce
Step-step making Recipes easy to make Sweet 'n' Sour Chicken
In a bowl large enough to place all of the chicken pieces in, put the dark soy sauce. Add the chicken and toss so that it is all coated fully. Leave in fridge to marinate for 10-15 mins.

In a separate bowl large enough for the chicken pieces, place about three tbsp of cornflour, the white pepper and salt.Take the marinated chicken pieces and dip each piece into the beaten egg and then roll into the cornflour mixture until lightly coated with no gaps. Do this with all the chicken.

Heat up a wok over a high heat and add enough cooking oil to cover about 4-5mm of the base. Leave to get hot enough for frying then add the chicken pieces in batches, so not to overfill the wok and lower the cooking temperature, using wooden chopsticks or tongs turn occasionally until all sides are crispy and golden brown. The chicken should only take a few minutes to cook. Lay out some sheets of kitchen roll and gently remove the pieces from the wok and lay them out on it to remove excess oil.

Carefully remove almost all of the oil from the wok, leaving just enough to fry the vegetables with, (around 2 tbsp worth). Add the onion first and stir whilst it fries so it doesn't burn. After around three minutes add the bell pepper and the pineapple, cook for another 2-3 mins, or if using frozen pineapple, until it's no longer cold in the centre and is defrosted.

Add the sweet and sour sauce to the wok with the onions, pineapple and peppers. Reduce down for around two minutes until it starts to thicken and it's warmed through. Add the crispy chicken pieces and toss everything together quickly (to keep coating from becoming too soggy), so it's evenly coated in the sauce. Remove from the heat.

Plate up and garnish with chopped spring onions.