Recipes easy to make My Spaghetti Puttanesca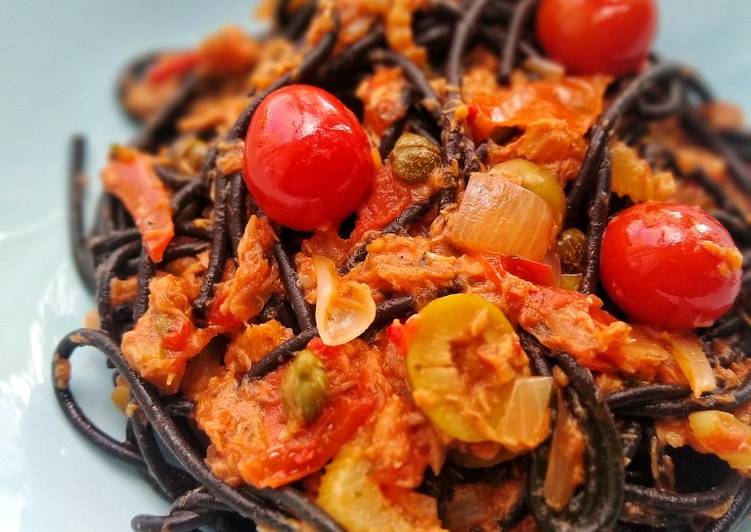 The ingredients for making Recipes easy to make My Spaghetti Puttanesca
150 g dry spaghetti,

1 tin tuna in spring water, (112g), drained

8 green or black olives, sliced,

1 stick celery, chopped finely,

Half a tin (200g) Italian cherry tomatoes,

1/2 an onion, chopped,

1/2 red chilli, sliced into thin rings, (de-seeded to taste),

1/2 tbsp tomato pureé paste,

2 cloves garlic, crushed,

2 heaped tsp capers,

1 tsp dried parsley,

Fresh lemon juice (around 2 tbsp worth)

Sea salt and cracked pepper to season,

3-4 tbsp pasta cooking water,

Salt for pasta water,

1 tbsp olive oil for frying
Step-step making Recipes easy to make My Spaghetti Puttanesca
Get a large saucepan on the hob filled with salted water and bring to the boil for the pasta. Add the spaghetti and begin to cook according to packet instruction, (usually takes 9-10 mins).

While the pasta cooks heat a large saucepan over a medium heat and add the olive oil. Once warm add the chopped onions and celery and fry for 2-3 mins, next add the crushed garlic and chilli. Fry for a couple more minutes and season with salt and pepper. Add in the tuna and stir.

Add the tomato paste and dried herbs and stir through. Pour in the tinned cherry tomatoes. Add the capers and olives into the pan. Stir everything until well combined. Add a touch of pasta cooking water and combine until a sauce is created. Turn the heat down to low and simmer. Add the lemon juice just as the pasta has finished cooking. Remove from the heat.

Once the pasta has cooked, drain off and season with pepper. Add the drained pasta in with the sauce and gently mix together until the spaghetti is lightly coated in the tomatoy salty sauce.