Recipes easy to make Poached Pears Almond Cake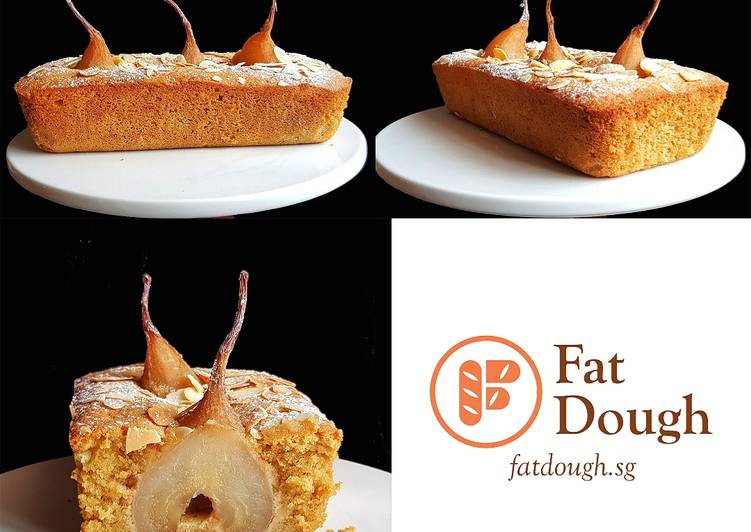 The ingredients for making Recipes easy to make Poached Pears Almond Cake
Poached Pears:

Water, 750ml or More

150 g Dark Muscovado Sugar,

1 Cinnamon Stick,

2 Star Anise,

1 Stalk Lemongrass White Part Only,

Fresh Orange Zest, 1 Orange

1/2 Inch Ginger Thinly Sliced,

3 Pears Preferably Bosc,

Cake:

Unsalted Butter Softened, 110g + More For Greasing

75 g Dark Muscovado Sugar,

2 Eggs Lightly Beaten,

110 g Almond Meal,

50 g Unbleached All Purpose Flour,

1/2 TSP Salt,

1/2 TSP Baking Powder,

1/2 TSP Pure Vanilla Extract,

Almond Flakes, A Sprinkle

Icing Sugar, For Dusting
Step-step making Recipes easy to make Poached Pears Almond Cake
Poach pears.

In a sauce pot, add water, sugar, cinnamon, star anise, lemongrass, orange zest and ginger.

Stir to combine well.

*Lightly bruise the lemongrass with knife, just like crashing a garlic.*

Bring it up to a boil.

Turn the heat down to low and bring it to a slow simmer.

Simmer for about 30 mins.

Remove from heat.

Working 1 pear at a time.

Peel the pear with a potato peeler. If you are good with knives, use a knife instead.

Using a melon baller, gently scrape out the bottom.

Continue scrapping until all the seeds are scraped out.

*Be careful and try not to damage the pears.*

Slice the bottom of the pears to make it flat.

Immediately transfer into the water mixture.

Repeat the process from the remaining pears.

If the water is not enuff to fully submerge the pears, add more water.

Return to a medium heat.

Bring it up to a slow simmer.

Turn the heat down to low.

Cover the pears and water with parchment paper to allow even poaching.

Poach the pears for 30 mins.

Remove from heat and set aside to cool down completely.

Sit in the fridge overnight or up to 3 days.

Prepare the cake.

Preheat oven to 170 degrees celsius or 340 fahrenheit.

Take the poached pears out of the syrup mixture and carefully place on a wire cooling rack to drain off any excess liquid.

You can make tea with the amazing spiced syrup or make a chocolate sauce.*

Grease loaf pan with butter.

Line parchment with the sides overhanging.

In a large bowl, cream butter and sugar until light and fluffy.

Add in eggs and continue creaming until well combined.

In another large bowl, sieve together almond meal, flour, salt and baking powder,

Transfer the almond meal mixture into the butter mixture.

Add in vanilla.

Gently fold to combine well.

Transfer into the loaf pan.

Carefully place the pears into the batter with the stems protruding.

Wack into the oven and bale for 40 to 50 mins or until a skewer comes out clean with a few crumbs.

*Half way thru' baking process, take the cake outta the oven and sprinkle almond flakes over the top.*

Remove from oven and set aside for 10 mins.

Unmold and let it cool down completely on a wire cooling rack.

Dust some icing sugar over the top.

Slice and serve.