Recipes easy to make (Vegan, WFPB) Vegan Chickpea Flour Pancakes with Vegan Kimchi and Cilantro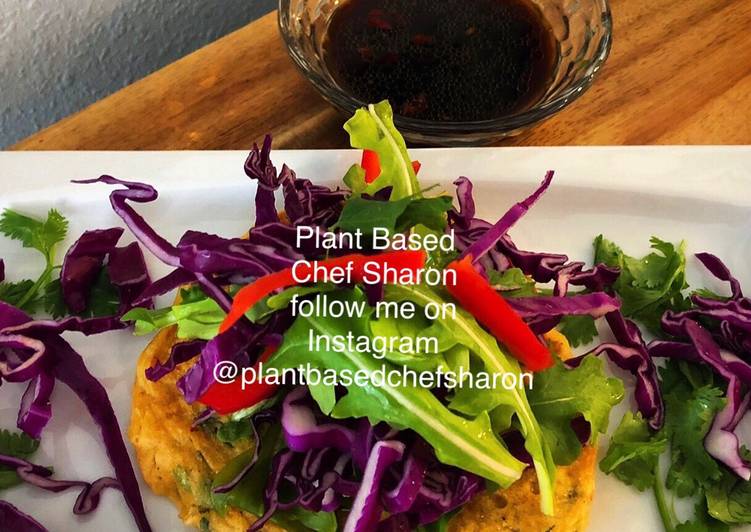 The ingredients for making Recipes easy to make (Vegan, WFPB) Vegan Chickpea Flour Pancakes with Vegan Kimchi and Cilantro
1 cup chickpea flour

1/2 teaspoon baking powder

1/2 cup cilantro finely chopped

1/2 cup of

Vegan Kimchi finely chopped (I used Nasoya Vegan Kimchi found at my local food market)

2 tablespoons Tamari

1 tablespoon Ume Plum Vinegar

1 teaspoon grated ginger

1 tablespoon sesame oil

1 tablespoon maple syrup

taste and djust your sauce for sweetness or saltiness as needed by adding a little bit more of tamari or maple syrup

1 cup purple cabbage sliced thin

1 cup Arugula

1/4 red bell pepper sliced in thin strips

1/4 cup cilantro for additional garnish
Step-step making Recipes easy to make (Vegan, WFPB) Vegan Chickpea Flour Pancakes with Vegan Kimchi and Cilantro
Lightly spray a grill pan or frying pan with a small amount of avocado oil. Heat grill pan to 350 degrees F.

Mix the chickpea flour, baking powder, cilantro and chopped kimchi with a small amount of water till your dough reaches a pancake like consistency. Add water a small amount at a time to you reach this consistency. Then sprinkle your batter with some salt and pepper.

Pour batter onto a hot grill pan. While pancakes cook make sauce with Tamari, Ume Plum Vinegar, Maple Syrup, grated fresh Ginger, Whisk sauce ingredients to completely blend.

Check on the pancakes they should have a lightly brown color. Once one side is slightly brown then flip. Cook both sides until lightly brown. Timing on cooking will depend on the size of your pancakes.