Recipes easy to make Black gram Lentil and Pumpkin Chutney | Poosanikkai Thoghayal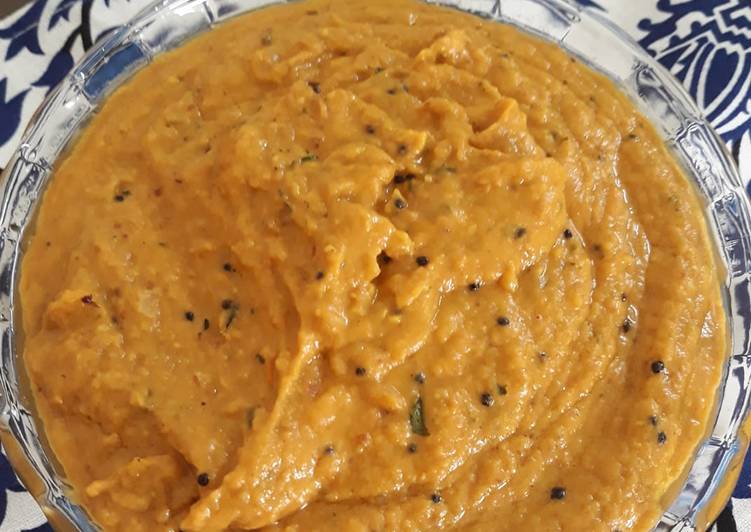 The ingredients for making Recipes easy to make Black gram Lentil and Pumpkin Chutney | Poosanikkai Thoghayal
for Thoghayal

1/4 cup udad dal / black gram lentil split and dehusked

300 grams pumpkin cleaned (remove the seeds)

1 medium sized tomato

1 small lemon size round of tamarind

2 each red and green chillies

as required Coconut oil

10-15 curry leaves

1/8 cup Fresh or desiccated coconut

to taste Salt

For tempering:

2 tsp coconut oil

4-5 curry leaves

Pinch hing / aesofotida

1/4 teaspoon mustard seeds
Step-step making Recipes easy to make Black gram Lentil and Pumpkin Chutney | Poosanikkai Thoghayal
Remove the skin of red pumpkin and cut the skin in small pieces and set aside.

Chop the pumpkin in small cubes. (Do not throw the thread like inside as it is nutritious and tasty) chop tomatoes. Break chillies in halves.

If you are taking frozen coconut then soak in warm water till we are preparing other things. My fresh coconut was bad when I cut it open hence I used desiccated coconut. I soaked it in some warm water.

In a pan put some more oil, let it heat, then add urad dal and fry till it changes it's colour, add chillies and fry, next add the skin of pumpkin and fry for a minute then next add the vegetable part and fry it for some time then cover and cook it.

When it gets soft add tomatoes and fry till it loses it's shape and is soft.

Now add the other ingredients like curry leaves, tamarind, coconut, salt and mix and let them come together for 2-3 minutes.

Switch off the flame. Grind into smooth paste.

In a pan add coconut oil 2-3 tsp, when it's hot add mustard seeds, let it crackle then add hing and curry leaves. Add this tadka to the ground paste and thoghayal is ready to be served.