Recipes easy to make Makai vada (Corn meal dumplings)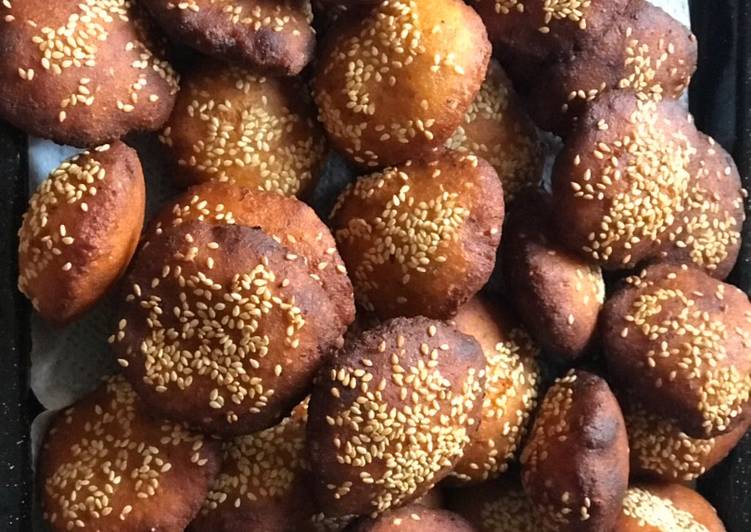 The ingredients for making Recipes easy to make Makai vada (Corn meal dumplings)
2 cups cornflour

1 cup gram flour or dhokra flour

2 cups wheat flour

1 teaspoon chilli powder

1 teaspoon turmeric powder

1 teaspoon chilli paste

1 tablespoon ginger garlic paste

to taste Salt

1 tablespoon sesame seeds

1 teaspoon carom seeds

1 tablespoon eno

1 cup yogurt or sour cream Oil for frying
Step-step making Recipes easy to make Makai vada (Corn meal dumplings)
In a big bowl add the corn flour, gram flour, wheat flour, turmeric powder, salt, sugar, chilli paste, ginger and garlic paste chilli powder, sesame seeds and carom seeds.

Mix all together and add yogurt and mix well. Add warm water and make a soft dough. Leave it overnight to ferment.
If your yogurt is not sour add citric acid if preferred.

The following day heat oil for deep frying.
Add eno to the dough and mix well. If it is dry add a little water and if it has become soft add a spoon of wheat flour.

Make lemon size ball of the dough. Take the dough and deep in sesame seeds and keep it between two plastic sheets and pat it flat.
Deep fry the vadas flipping them couple of time until golden brown.

Please note this recipe has no soda bicarbonate or oil in the dough.