Recipes easy to make Angoori Rabdi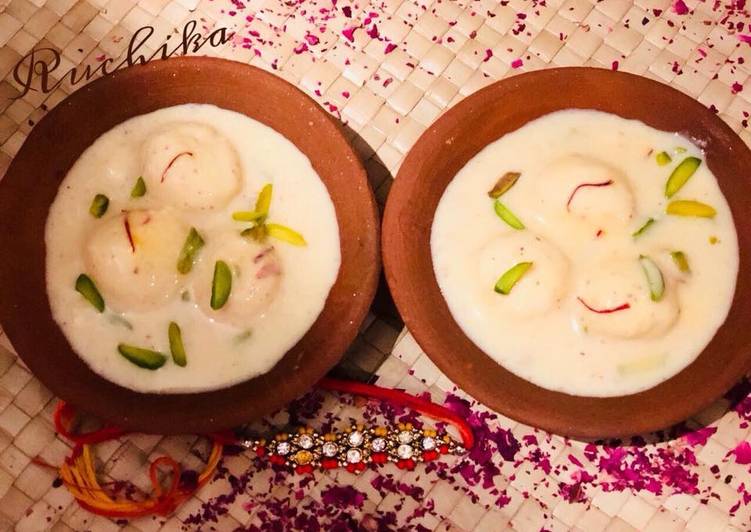 The ingredients for making Recipes easy to make Angoori Rabdi
For Angoori sponges:

1 liter full fat milk

2-3 tbsp vinegar (add as required)

1/2 cup sugar

3 cups water

1/2 tsp Cardamom powder

For for Rabdi:

4 cups Milk

1 tsp Cardamom powder (elaichi powder)

1 pinch Saffron

1/2 cup powdered makhana (fox nuts), almonds and some cashews

as required Pistachio slivers for garnishing
Step-step making Recipes easy to make Angoori Rabdi
Method to prepare the sponges:
Pour milk in a pan and allow it to boil. Once it boils, add vinegar to it. Stir the milk occasionally so that milk doesnt stick to the bottom.

Once milk comes to a boil, turn off the heat.

When the milk has curdled properly, pour the milk into the strainer lined with a soft muslin cloth. You could also use any other cloth which is thin and allows the water to drain easily.

Now grab the cloth from all the sides and rinse the contents very well under running water.

Now take this coagulated milk in a flat thali and with the heel of your palm start mashing it with little pressure and stop when chenna start releasing ghee.

Mash it for 5-6 minutes and make small balls. Balls should be smooth with no cracks.

Now keep a big deep vessel on high flame and pour 5 cup of water into it. Add 1 cup of sugar and let it come to a boil.

Once sugar-water comes to boil, gently slide all the chenna balls into it and cover the lid immediately, so that the steam remain inside the vessel.

Cook for about 5 minutes on high heat and then turn the flame to minimum possible flame. Now cook it covered for next 20 minutes on lowest flame.

Angoor (mini rasgulla) are now cooked. You may check it by pressing a sponge with your finger if it bounces back to it's original shape, it's cooked.

Now take another pot and add some room temperature water. Shift all cooked rasgulla into it.
Freshwater is necessary because they retain their shape when immersed in fresh water.

Angoori sponges are ready.

Method to prepare rabri:
In a heavy bottom pan, bring milk to boil.
Simmer on low heat for 10-minutes.

Add powdered dry fruits and makhana to it as this will help in quick thickening of milk

Make sure you stir it intermittently to avoid burning and sticking at the bottom.

Add saffron and sugar. Stir it well. Simmer until milk is reduced to half amount.

Keep it aside to let it cool to room temperature.
Rabdi is ready.

Serving:
Dunk the angoors into the rabri and let it sit for about 15-20 minutes so that the angoors get soaked nicely.

Garnish with sliced pistachio and saffron strands.