Recipes easy to make Miso Ramen Soup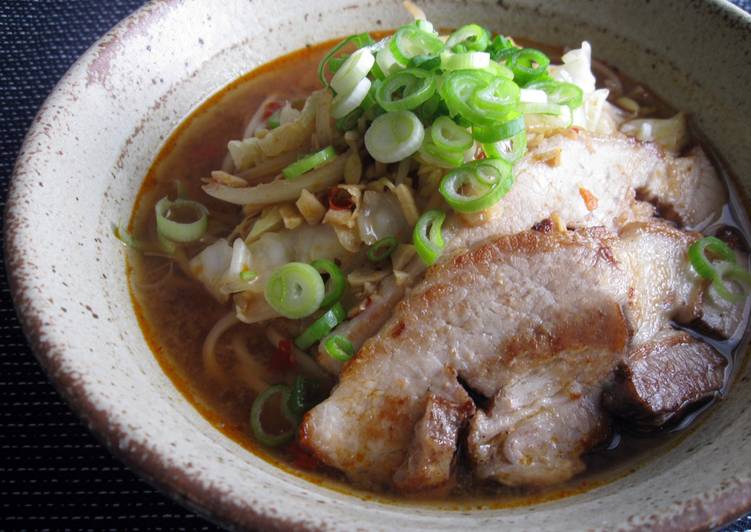 The ingredients for making Recipes easy to make Miso Ramen Soup
1 clove Garlic *finely chopped

1 small piece Ginger *finely chopped

1 tablespoon Toban Djan (Chili Bean Sauce) *optional

1 teaspoon Sesame Oil

1200 ml Chicken Stock *OR Water & 2 teaspoons Asian Chicken Bouillon Powder

1 teaspoon Dashi Powder *Bonito type recommended

3-4 tablespoons Miso

1-2 Spring Onion *lighter colour parts, cut to 10cm in length

Soy Sauce *for adjusting the saltiness

2-4 tablespoon Mirin for sweetness
Step-step making Recipes easy to make Miso Ramen Soup
Heat Sesame Oil, Garlic and Ginger in a pot over medium low heat. When aromatic, add Toban Djan (Chili Bean Sauce) and stir, then add Chicken Stock, Dashi Powder and Spring Onion.

Bring to the boil over higher heat, then simmer for 30 minutes or until flavours are all well combined. Add Miso and Mirin, and adjust the saltiness with Soy Sauce as you like.

Place rightly cooked Ramen noodles and your favourite toppings (my favourite toppings for Miso Ramen are stir-fried Vegetables and Roasted Pork), and enjoy immediately!!!