Recipes easy to make Lehsuni Paneer | Garlicky Indian Cottage Cheese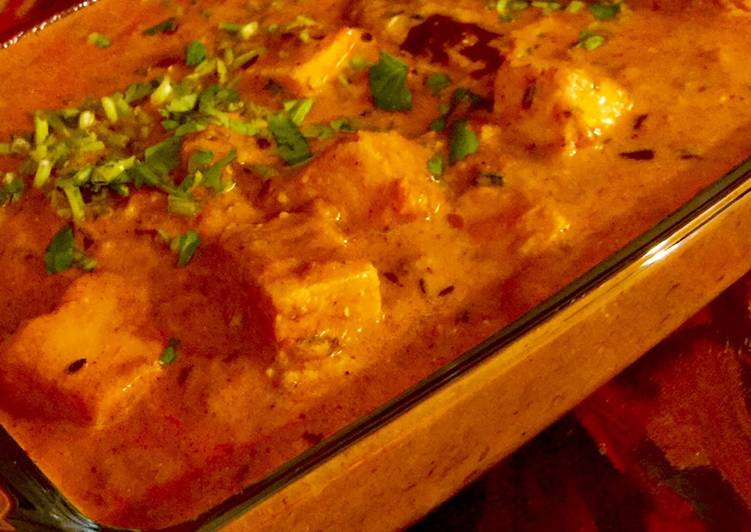 The ingredients for making Recipes easy to make Lehsuni Paneer | Garlicky Indian Cottage Cheese
500 grams Paneer/Cottage Cheese (Cubed)

5 Medium Tomatoes

4 Green Chilies

1 Medium Onion (Finely Chopped)

2 Tbsp Chopped Coriander Leaves

2 Tbsp Chopped Garlic (Divided)

4 Dried Red Chilies (Broken into half)

1 Tsp Garlic Paste

1 Tsp Cumin Seeds

1 Tsp Red Chilli Powder

1/2 Tsp Turmeric Powder

1/2 Cup Cream

1/4 Cup Whipped Yogurt

1/2 Tsp Garam Masala

As per taste Salt

2 Tbsp Oil
Step-step making Recipes easy to make Lehsuni Paneer | Garlicky Indian Cottage Cheese
Blanch the Tomatoes for 2 minutes. Drain the water. Let the Tomatoes cool down. Place them in a Blender Jar & make a coarse pure along with the Green Chilies.

Heat oil in a large nonstick Skillet.

Tip in the Cumin Seeds. Add in 1 tablespoon chopped Garlic, allowing the Garlic to slightly burn – this will flavour the oil beautifully.

Now tip in the dried Red Chilies, Red Chilli Powder and the chopped Coriander Leaves along with balance 1 Tablespoon Garlic and saut over a medium heat to soften the Garlic.

Add the Turmeric Powder and Onions.
Saut the Onions until golden.

Pour in the Tomato Pure.
Cook covered over low heat till oil floats on top.

At this stage, add the Garlic paste.
After 30 seconds, add the Paneer followed by the Salt.

Let it simmer over low heat for about 5 minutes.

Add the Cream. Stir gently and cook for another 2-3 minutes, stirring occasionally.

Finally, sprinkle the Garam Masala.

Turn the heat off. Stir in the whipped Yoghurt.

Your delicious Garlic Infused Paneer is ready to be devoured.