Recipes easy to make Seero Malpuro / Malpua With Sooji Halwa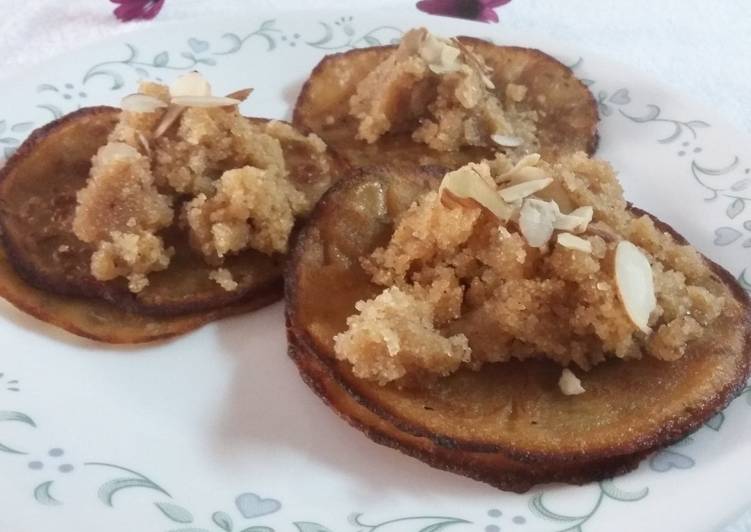 The ingredients for making Recipes easy to make Seero Malpuro / Malpua With Sooji Halwa
For Malpua-

1 Cup Wheat Flour

1 Cup Semolina/Sooji

1.5 Cup Jaggery

1 Cup Water

1 tsp Oil For Each Malpua

1 Tbsp Fennel Seeds

1 Tsp Cardamom Powder

For Halwa-

1/2 Cup Ghee

1/2 Cup Suji

1/2 Cup Sugar

1/4 Tbsp Almond Flakes

2 Cups Water
Step-step making Recipes easy to make Seero Malpuro / Malpua With Sooji Halwa
Take a vessel, add jaggery (broken into small pieces) with water. Cook until one thread like consistency is obtained.

Take a large bowl, add whole wheat flour, sooji, fennel seeds and cardamom powder.

Add the jaggery syrup in the bowl and mix well. Mix thoroughly so no lumps left.

The batter should be of medium consistency. Add some water if the batter looks too dry. Keep the batter aside for 15 minutes.

Heat some oil in the pan, pour ladle full of batter in the pan. Pan fry at high flame.

Top with roasted nuts and serve with Rabri or sooji halwa.

#Halwa Recipe:

Heat ghee in heavy bottom pan.

Add sooji in ghee. Keep roasting it for 5 To 7 minutes or till it leaves the ghee on slow flame, stirring in between for even roasting.

Between the roasting time add nuts so that they too get slightly roasted and give crunchy.

After few minutes when aroma arises and ghee gets separated then add sugar and water.

Increase the flame to high. cook on high flame till 80% of water gets evaporated and set the flame to slow.

Halwa is ready. Serve malpuas with halwa or enjoy alone.