Recipes easy to make Cranberry Chicken Salad with Walnuts in a creamy Peppercorn Ranch Dressing on a Buttery Croissant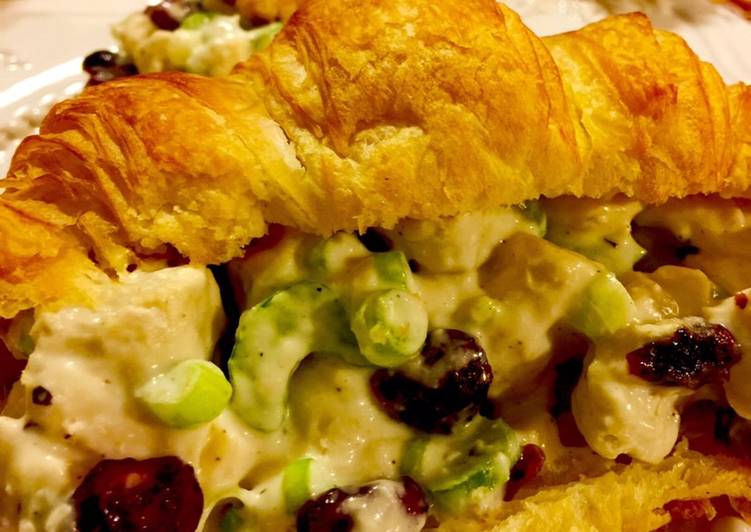 The ingredients for making Recipes easy to make Cranberry Chicken Salad with Walnuts in a creamy Peppercorn Ranch Dressing on a Buttery Croissant
2 Chicken Breasts (Boneless)

1/4 Cup Walnuts (Chopped)

1/2 Cup Dried Cranberries

2 Celery Stalks (Chopped)

1 Bunch Green Onions (Chopped)

4 Tbsp Peppercorn Ranch Dressing Or Any dressing of your choice

1/2 Tsp each Salt and Pepper Powder

4 Croissants
Step-step making Recipes easy to make Cranberry Chicken Salad with Walnuts in a creamy Peppercorn Ranch Dressing on a Buttery Croissant
Trim off fat from the Chicken Breasts & wash with warm water.

Steam the Chicken Breasts in a large pot with 2 cups of water for 30-35 minutes or until tender.

Keep checking for doneness.

Wash and cut the Celery finely.
Dice the Green Onions.

Cut the cooked Chicken into small cubes.
Place in a medium bowl.

Add the Celery, Green Onions, Cranberries and Walnuts.

Add Salt and Pepper Powder. Stir well.

Store in the Refrigerator.