Recipes easy to make Miso & Tomato Meat Sauce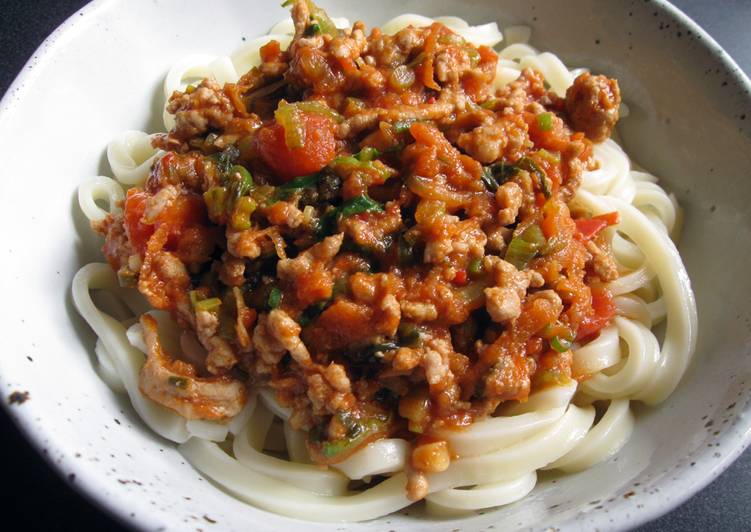 The ingredients for making Recipes easy to make Miso & Tomato Meat Sauce
1 tablespoon Sesame Oil OR Canola Oil

400-500 g Pork Mince *OR Beef, Veal or Chicken Mince

2-3 Spring Onions

1 clove Garlic

1 small piece Ginger

1 Carrot

1 cup finely chopped Vegetables

*e.g. Bok Choy, Shiitake, Green Beans, Bamboo Shoots, etc

1 canned Diced Tomatoes *400g

<Sauce>

2-3 tablespoons Miso *red type, dark colour Miso recommended

1 tablespoon Sugar

1/2-1 tablespoon Soy Sauce

1/2-1 tablespoon Toban Djan (Chili Bean Sauce)
Step-step making Recipes easy to make Miso & Tomato Meat Sauce
Finely chop up all vegetables. Garlic and Ginger can be grated. Carrot can be shredded.

Combine all the sauce ingredients in a small bowl.

Heat Oil in a large frying pan over medium high heat, cook Pork Mince and all vegetables until Pork changes colour.

Add the sauce and mix to combine, and add Tomatoes. Bring to the boil, then reduce heat and simmer for 5 minutes or until the sauce thickens, stirring occasionally.

Enjoy with Japanese Udon, Ramen Noodles, Italian Spaghetti or Chinese Egg Noodles.